Superstar swimmer Nguyen Thi Anh Vien won a gold medal at the women's 200m breaststroke on the last day of the swimming competition of the ongoing 28th Southeast Asian Games.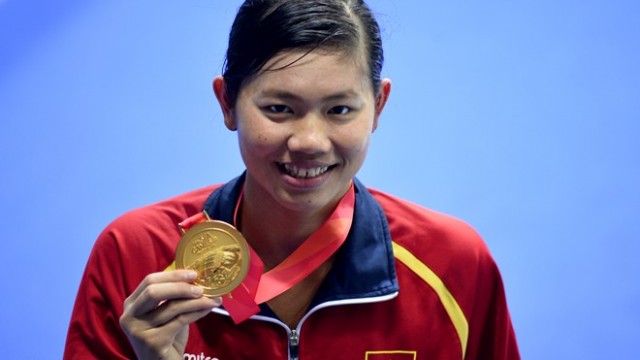 She soon took the lead just metres after the start but she was followed closely by Pawapotako Phiangkhwan of Thailand all the way from the start to the finish.
The Vietnamese swimmer touched the pad at 2:31.16, just 0.35 seconds ahead of Pawapotako, who claimed a silver. The bronze went to Yeo Samantha Louisa Ginn.
During the biggest regional sport event, Vien won a total of eight gold, one silver and one bronze medals and made new seven records, making her go down in history as the best swimmer at the 28th SEA Games, the most successful Vietnamese swimmer at a single SEA Games and the most successful Vietnamese athlete in the history of the SEA Games.
The 18-year-old girl rewrote the swimming history of the SEA Games when she helped the Vietnamese swimming squad finish the Games with 10 golds, two silvers and four bronzes, ranking in second place, only behind Singapore, who amassed 21 gold medals.
Malaysia came in third place with just three gold medals, followed by Thailand and Indonesia, who each managed just one gold medal.