Secretary Worked With Nhơn Nghĩa Commune Party Committee
In the morning of August 9th, Party central member – Secretary of Cần Thơ city Party Committee Trần Quốc Trung and leaders of Party building boards under the city party committee, standing boards of Party Committee, People's Council, People's Committee of Phong Điền suburban district worked with leaders of Nhơn Nghĩa commune Party Committee on the implementation of some major tasks in the 1st 7 months of the year.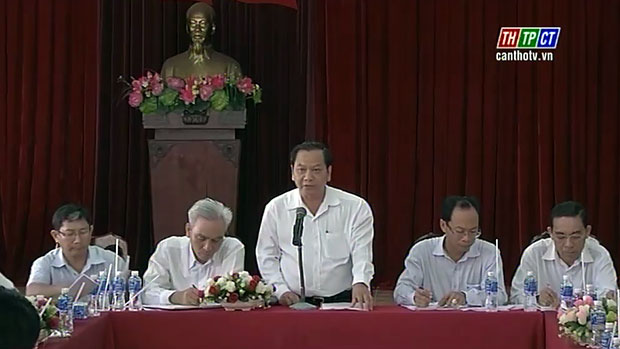 Mr. Trần Quốc Trung (standing) worked with Nhơn Nghĩa commune Party Committee.
The secretary and members of the delegation came to make survey on the project for building Nhơn Nghĩa 3 primary schools – one of 3 schools of the commune which are under construction at the total cost of over VND 30 billion and the project for supplying clean water at the resettlement area of the national highway 61B.
Based on the report of the standing board of the Party Committee of Nhơn Nghĩa commune, the party committee has always concerned about the political- ideological education task.
Operations of the authority continuingly brought into effect.
The existing difficulties it is facing are how to early upgrade of some routes, how to increase the rate of health insurance coverage, improve social evil and social order, unlimited traffic accidents.
The secretary and members of the delegation highly valued results gained by the party committee and people of Nhơn Nghĩa commune in the past time while noting the Party Committee to enhance the political-ideological education, to raise quality of meetings of party cells, to pay attention to people's material and spiritual life, to accelerate the progress of obtaining 2 criteria on building standard school and culture house of hamlet so as to be recognized new rural commune by the 4th quarter of this year./.
Lê Thanh – Hoàng Nghĩa
Translated by Xuân Trang