Project helps improving maternal and newborn care
A Save the Children project helped improve knowledge on maternal and newborn care for thousands of mothers and health workers in Yen Bai Dak Lak and Ca Mau provinces from mid 2012 to December 2016.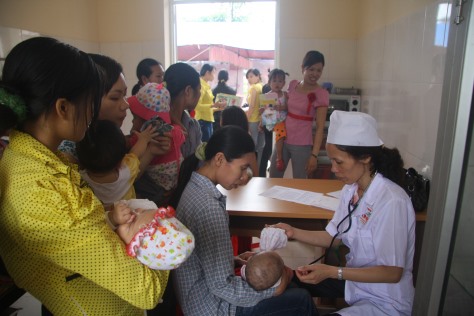 Health worker provides free health checkup and consultation for mothers during a health day event organised by Save the Children in Thai Nguyen province (Photo: Save the Children)
The project helped build three newborn units for hospitals of Yen Bai Province including those in Tram Tau and Luc Yen districts.
Following several training courses, surgeons of the Tram Tau District hospital performed three surgeries with the support of colleagues from the provincial hospital, although no surgery was undertaken at the hospital over the past eight years.
Maternal fatality rate has reduced, while many premature newborns have been saved thanks to the facilities and human resource support from the project, according to a health worker at Dak Lak General Hospital's Obstetrics Unit.
Project experiences also contributed to development of the National Master Plan for Maternal, Newborn and Child Health for 2016-2020 and the National Guidelines for Reproductive Health services.
With a fund of 3.5 million USD from the Atlantic Philanthropies Foundation, the project titled "Scale up of the model of Household to hospital Continuum of Maternal and Newborn Care" in Vietnam, was implemented by the Ministry of Health and the Hue Medicine and Pharmacy University.
The project aims to improve access to quality maternal and newborn health services, to increase demand for and utilisation of those services by mothers and newborns and to strengthen the ongoing management and policy environment to ensure sustained reductions in maternal and newborn death and disability./.
VNA
Link:
http://en.vietnamplus.vn/project-helps-improving-maternal-and-newborn-care/103880.vnp