In the afternoon of June 13th, the central delegation led by prime minister Nguyễn Xuân Phúc had a working session with leaders of Cần Thơ city on socio- economic development situation in the 1st 6 months of 2016. Party central member- secretary of Cần Thơ city party committee Trần Quốc Trung, permanent members of the city party committee and leaders of departments, sectors received the delegation.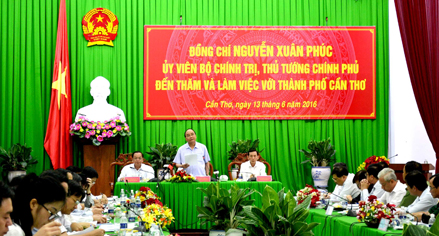 At the meeting, leaders of Cần Thơ city proposed the centre give green lights for the city to actively carry out policies in more preferential manner to call for investment, specifically, empowering the guideline of investment and granting investment registration certificates for foreign enterprises which invest in the city, cutting 50% of land use and renting money for enterprises which invest as the list of investment calling projects in the city, continuingly giving priority for projects managed by the centre, giving the green light for the city to invest in hi- tech zone, concentrated information technology zones and supporting for building hi- tech agricultural- industrial zone.
Prime minister also noted Cần Thơ to pay attention to coping with climate change, building rural infrastructure with vision to build the city into the driving force of the whole region, diversifying agricultural production and other domains, exploiting new advantages brought from climate change and becoming the place to attract enterprises, hi- tech industrial and agricultural zones, devising breakthroughs in technological application, raising competitiveness by regional connection as well as connection with big cities and regional countries while creating clear mechanism for Cần Thơ city to strongly grow in the future.
Translated by Xuân Trang