President welcomes US Senator John McCain
Vietnam considers the US one of important partners and wants to continue boosting the Vietnam-US comprehensive partnership on the basis of respecting each other's political institution and the win-win relations for peace, stability and development in the region.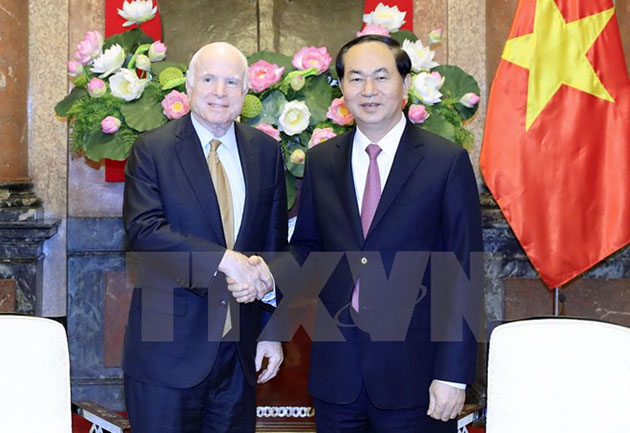 President Tran Dai Quang (R) welcomes Senator John McCain (Photo: VNA)
President Tran Dai Quang made the statement at his reception in Hanoi on June 1 for a visiting delegation of the US Senate Committee on Armed Services led by its Chairman Senator John McCain.
The State leader lauded and thanked Senator John McCain and US friends for making important contributions to deepening the Vietnam-US ties in more practical and effective manner in all fields and on the regional and global arena.
He proposed that the US congress continue supporting the ending of the US Department of Agriculture's catfish inspection programme and the acceleration of bilateral trade through importing Vietnamese commodities as well as bringing more US goods to the Vietnamese market.
He also asked the US side to continue assisting Vietnam in completing the detoxification of Da Nang airport and launch the work in Bien Hoa airport.
Both sides should also enhance cooperation in search and rescue during natural disasters and increase partnership in the defence industry, he stated.
For his part, Senator McCain underlined that the US-Vietnam comprehensive partnership is in the best time since the countries normalised their diplomatic relations.
The senator confirmed that he supports the US congress and government to continue cooperating with and supporting Vietnam in implementing the Agent orange/dioxin detoxification project, overcoming war aftermaths, search and rescue, and other areas of shared interest.
He highlighted the US' stance of favouring maritime and aviation freedom in the region, and affiliations among countries to prevent security risks to growth and stability.
Sharing McCain's opinions, President Tran Dai Quang stressed that a stable environment is a significant factor to any country during socio-economic development.
Vietnam persists in its position of settling disputes through diplomatic measures, dialogues, and international law, especially the UN Convention on the Law of the Sea as well as ASEAN mechanisms such as the Declaration on the Conduct of Parties in the East Sea, looking towards a Code of Conduct in the East Sea./.
VNA
Link:
http://en.vietnamplus.vn/president-welcomes-us-senator-john-mccain/112663.vnp