President Tran Dai Quang begins State visit to Italy
President Tran Dai Quang, his spouse and a high-ranking delegation arrived in Rome on November 21 afternoon (local time), beginning his State visit to Italy from November 21-24, at the invitation of his Italian counterpart Sergio Mattarella.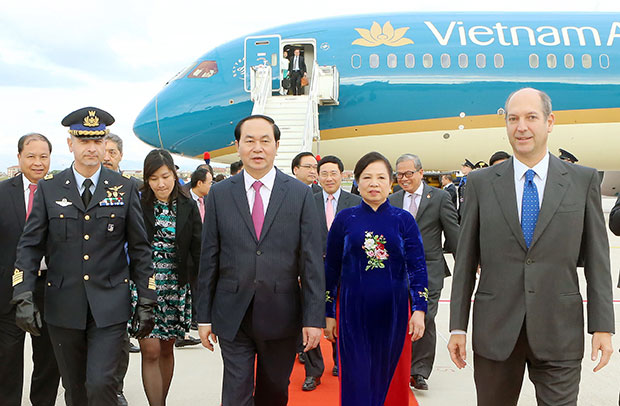 President Tran Dai Quang starts official visit to Italy (Photo: VNA)
President Quang will visit the Vatican on November 23 as a guest of Pope Francis.
The official welcoming ceremony will take place at the Presidential Palace in Rome at noon of November 22 (local time).
Vietnam and Italy established diplomatic ties on March 23, 1973.
Italy was the first Western European nation to back the enhancement of cooperation between Vietnam and the EU at major international forums, as well as the normalisation of relations between Vietnam and international financial, trade and monetary organisations in the 1990s.
Italy's senior leaders have affirmed their resolve to step up multi-faceted collaboration with Vietnam, regarding the country as a priority development partner in Southeast Asia and a destination for Italian businesses.
Trade between the two countries has increased years by years, reaching 4.3 billion USD in 2015.
Italy ranks 31 out of 112 countries and territories investing in Vietnam with 77 projects valued at 360 million USD, mostly in processing, manufacturing, leather and footwear, construction, lavatory equipment and steel processing.
The Italian Government has listed Vietnam as one of ten newly-emerging markets to prioritise trade and investment ties with.
The two countries also set up a joint committee on economic cooperation.
Italy began providing official development assistance for Vietnam in the 1990s in areas like water supply and sewage, environmental protection, human resources development, health care and institution building.
The Vietnam-Italy Joint Committee on Development Cooperation met in Rome in December 2009, approving a handful of cooperation projects in health care, environmental protection and supporting small-and medium-sized enterprises (SMEs).
Bilateral collaboration in education has also reaped achievements.
Annually, the Italian Ministry of Foreign Affairs provides scholarships to Vietnamese and opens Italian language classes in Hanoi and Ho Chi Minh City.
Currently, nearly 5,000 Vietnamese live in Italy, mostly in the northern region with a thriving industry and a lot of job opportunities./.
VNA
Link:
http://en.vietnamplus.vn/president-tran-dai-quang-begins-state-visit-to-italy/102963.vnp