President Sang meets US, Japanese leaders
President Truong Tan Sang had bilateral meetings with US President Barack Obama and Japanese Prime Minister Shinzo Abe on November 10 on the sidelines of the Asia-Pacific Economic Cooperation (APEC) Forum in Beijing, China.
President Truong Tan Sang noted that the Trans-Pacific Partnership (TPP) agreement has entered the key period, which requires all involved parties to show high political resolve and necessary flexibility to conclude the negotiation as scheduled.
He confirmed that Vietnam is willing to collaborate with the US and other member countries to ensure TPP is a comprehensive and balanced agreement taking into consideration the interests and development levels of the stakeholders.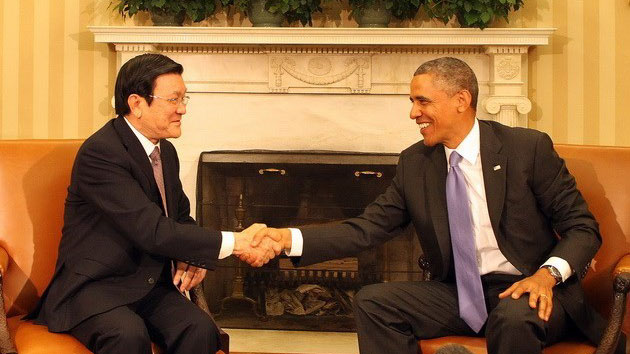 The President invited his US counterpart to visit Vietnam soon.
At the meeting between President Truong Tan Sang and Japanese Prime Minister Shinzo Abe, both sides expressed their pleasure at the growing bilateral relations in various fields such as politics, economics, security, agriculture and people-to-people exchanges, particularly since the two countries formed a bilateral strategic partnership for peace and prosperity in Asia during President Truong Tan Sang's visit to Japan in March 2014.
The two leaders discussed specific measures to deepen Vietnam-Japan relations and agreed to maintain regular high-level visits and making effective use of existing bilateral dialogue and cooperative mechanisms.
Prime Minister Shinzo Abe said Japan will continue to support Vietnam in socio-economic development, infrastructure building, technological transfer, and improving capacity for marine law enforcement forces.
VOV