Photo contest captures ocean glory
A photo capturing a woman burning incense and praying for a whale's soul on a beach sunset has received Grand Prize in a photo contest held by the US Mission Vietnam.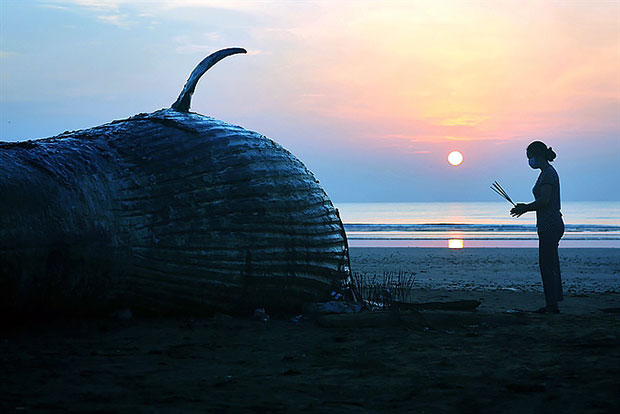 A prayer for whale's soul, a photo taken by Nguyen Viet Thanh.
The awards ceremony on September 16 honoured the photo's author, Nguyen Viet Thanh, who currently works as a photojournalist at the English-language newspaper Vietnam News of the Vietnam News Agency.
The whale washed up on the coast of Dien Chau, the central province of Nghe An in May.
For hundreds of years, every time a whale washed up on the shore of those villages, locals would hold a ceremony to bury the whale.
They believe whales are protectors of fishermen at sea.
"People told me that three whales washed up on the coast in this region in the past 60 years," he said.
That was the first time Thanh witnessed a real whale.
Grasping with the tragedy of its death, he immediately captured the moment.
"The whale was giant, it's totally different from what I imagined, because I just watched whales on the TV."
"Through the photos, I want to reflect a long-standing belief of the local people and a call for the ocean environment protection."
Launched last month, the photo contest Our Ocean, One Future received 650 photos sent by 300 amateur and professional photographers nationwide, according to Molly Stephenson, Public Affairs Counselor at the US Embassy in Hanoi.
"I know that Vietnamese people who live in the coastal area have a long tradition of worshipping whales, as they believe that the whales will protect them in the sea," she said.
"The photo taken by Thanh is about a dead whale, it's sad in one way, but it's a beautiful photo reflecting the Vietnamese culture and belief," she said.
The photo contest was organised as a preface to the Our Ocean conference hosted by Secretary Kerry in Washington, D.C., on September 15-16.
It focuses again on the key issues of marine protected areas, sustainable fisheries, marine pollution, and climate-related impacts on the ocean. The conference also focuses on youth and the development of the next generation of ocean leaders./.
VNA
Link:
http://en.vietnamplus.vn/photo-contest-captures-ocean-glory/99224.vnp