The Khmer in southern Vietnam race Ngo junks as part of the Ooc Om Bok festival to worship the Moon on the 10th lunar month.
It's a typical ritual of the wet rice agriculture to worship water and pray for bumper crops.
The Khmer have many festivals during the year but the Ngo junk race is the biggest one. It's an indispensable activity of the Ooc Om Bok festival in Soc Trang province, which always draws a large number of local dwellers as well as Khmer people from other provinces.
Oarsmen are strong young men who have to practice to row the junk harmoniously. The coxes should be prestigious men in the village and have experience in coordinating the oarsmen. A man sits in the middle of the junk to blow the horn to cheer the oarsmen.
Giang Tich, a Khmer in Soc Trang province, said, "I joined Ngo junk race when I was 18. It is our group's tradition. I'm encouraging my children to race. I love this sports and I always come to see the race."
Hundreds of thousands of people gather on the two banks of the river to watch the race. The sounds of drums and words of encouragement cheer the oarsmen.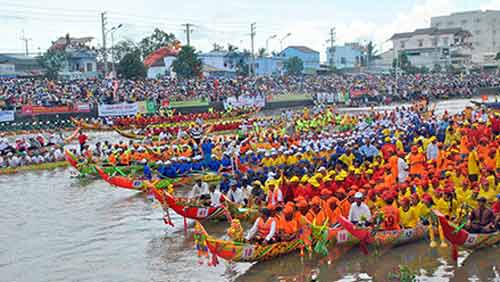 Ngo junk race is a community sports which enhance unity among Khmer people from villages.
Ly Hung, a Khmer in Can Tho city, shared, "Can Tho city's Ngo junk fleet has joined the festival. I hope our oarsmen will improve their skills so they can compete in other races in the Mekong delta. Soc Trang has a strong Ngo junk race team."
A Ngo junk is about 30 m long with two tapering and curvy ends. If the oarsmen don't cox harmoniously, it's easy to lose balance and capsize. Almost all Khmer pagodas have Ngo junks.
Strong young men in the village gather to form a race team and practice rowing a month before the festival.
Tran Xuan Canh of Tan Thanh district, Soc Trang province, noted, "The Khmer practice a month before a race with a strong will to win. If they have reward, they don't bring home but contribute to pagodas. They join the race for fun, not for money."
Every pagoda in Soc Trang province has a place to store Ngo junks. The Khmer think that Ngo junk race is a water worshiping ritual. If they attend the race regularly, they will be blessed with bumper crops or good businesses.
VOV