Prime Minister Nguyen Xuan Phuc has approved water supply planning for the Mekong Delta region to 2030 with a vision to 2050, aiming to reduce average clean water loss to 18 percent in 2020.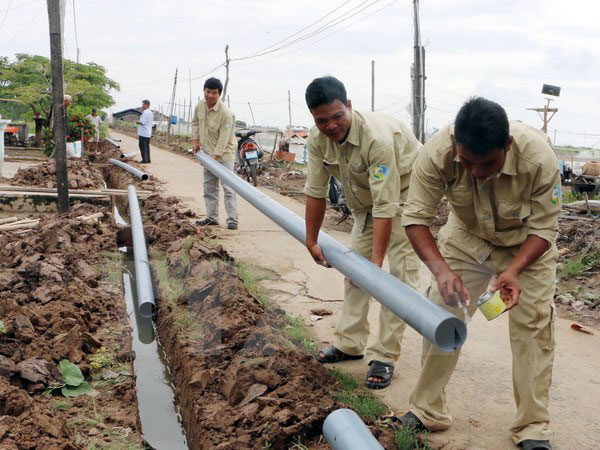 Installing water pipe in areas hit by salinity in Mekong Delta region (Photo: VNA)
The Mekong Delta region has a total natural area of over 40,604 square kilometers, covering Can Tho city and 12 provinces of Long An, Tien Giang, Ben Tre, Dong Thap, Vinh Long, Tra Vinh, Hau Giang, An Giang, Soc Trang, Kien Giang, Bac Lieu and Ca Mau.
By 2020, 90-100 percent of locals in level-three urban areas will have access to clean water, while the ratio in level-four and five urban areas 90-95 percent will have access.
In 2030, the percentage of residents in urban areas using clean water may reach 98-100 percent, while the ratio of rural residents accessing clean water from the trans-provincial and urban water supply system is hoped to increase to 35 percent.
Clean water loss is targeted to be kept below 12 percent, according to the planning.
The planning also divides water supply systems in the region into three smaller regions basing on terrain, development and the need for water as well as the planned water supply expansion.
Region one covers Long An and Tien Giang provinces and parts of Dong Thap province, while region two comprises Ben Tre, Vinh Long, Tra Vinh, and the other parts of Dong Thap province, and region three includes Can Tho city, and An Giang, Kien Giang, Hau Giang, Soc Trang, Bac Lieu and Ca Mau provinces.
The planning also includes the construction of five regional-level water works, aiming to ensure water supply to localities facing saltwater intrusion and water shortages.
The coverage and capacity of trans-provincial water works will be expanded in line with water requirements and climate change and salinity in specific periods, said the planning.
According to the Water Resources Department under the Ministry of Natural Resources and Environment, the region has experienced a sharp drop in rainfall.
In the 2015-2016 dry season, the rainfall level was lower than historical levels by 0.2-0.4m, while salinity was much higher than average.
Salinity of 4 gram per litre was recorded on 45-65km of Tien River and 55-60km of Hau River and 60-65km of Cai Lon River .
In addition, climate change has caused floods in the upper Mekong Delta and droughts in the centre of the region. Meanwhile, coastal areas have suffered from sea level rises that ravage agricultural production./.
VNA
Link:
http://en.vietnamplus.vn/new-planning-to-ensure-mekong-delta-water-supply/102317.vnp