Ministry promulgates action plan to prevent A/H7N9 avian flu
The Ministry of Health has promulgated an action plan to prevent A/H7N9 avian flu outbreaks in Vietnam, with the focus placed on early detection, timely treatment and limiting death toll.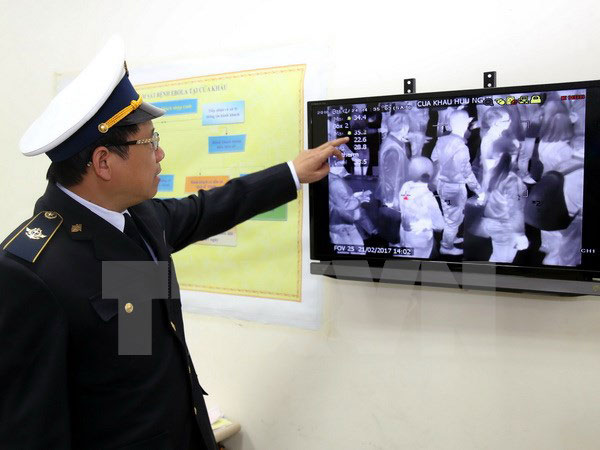 A customs staff check body temperatures of people at a border check point. (Photo: VNA)
The plan sets out four scenarios as well as suitable actions for relevant agencies to promptly deploy.
The Ministry also publicized a list of measures to tackle the disease, including improving diagnosis capacity and food safety, organizing drills for health staff, and raising public awareness through communications campaigns.
It recommended people to not use poultry or poultry products with unknown origins, and ensure food hygiene.
People should come to healthcare establishments for check-up and treatment if they have flu-like symptoms, such as fever, cough, chest pain or breathing difficulty, the Ministry said.
Vietnam has yet to detect any A/H7N9 patient, however, the long borderline shared with China and busy cross-border trade activities between the two countries are posing a high risk of virus transmissions into Vietnam./.
VNA
Link:
http://en.vietnamplus.vn/ministry-promulgates-action-plan-to-prevent-ah7n9-avian-flu/107812.vnp