Firefighters late Thursday afternoon were still battling a huge fire that broke out hours before at a Taiwanese garment factory in the Mekong Delta city of Can Tho.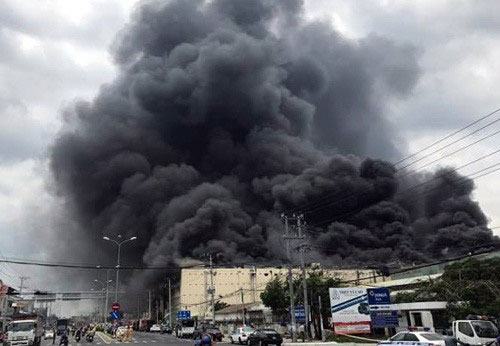 Hours after a fire broke out, a five-storey building in the Tra Noc Industrial Zone was still covered by thick large smoke, visible from three kilometres away. (Source: VietNamNet Bridge)
No casualties were reported, but officials in Can Tho said they had asked for assistance from other provinces in the region, including Vinh Long, An Giang and Hau Giang.
The blaze started in the morning on the top floor of a five-storey building in Tra Noc Industrial Zone in Can Tho, where the garment firm Kwong Lung – Meko stores fabric.
Hundreds of workers were forced to flee.
A Taiwanese executive of the firm said the fire had destroyed nearly everything in the factory.
"We are not very sure about any further damage. When I went inside, everything was ruined," said the executive, who introduced himself as Lai.
Trần Văn An, a worker at the company for nine years, said: "When I saw the fire begin to break out, I and three other workers used a fire extinguisher to try to control the fire, but it was too severe. So we decided to yell and run away immediately."
More than 100 firefighters and dozens of fire engines were sent to control the fire from spreading to surrounding areas.
As of 3pm, the building was still immersed in thick and black smoke which could be seen three kilometres away.
Mr. Võ Thành Thống, Chairman of Can Tho City's People's Committee, said authorities had requested the military force in the Mekong Delta region to provide assistance and support to help battle the fire.
Four hours after the fire began, the flames were still raging, according to witnesses at the scene.
Kwong Lung – Meko specialises in feather processing and garment production.
Its factory covers about 17,000 square metres and has more than 1,300 workers in the Tra Noc Industrial Zone, about 15km from downtown Can Tho./.
VNS
Link:
http://english.vietnamnet.vn/fms/society/175172/massive-blaze-destroys-taiwanese-garment-factory-in-can-tho–fire-in-saigon-street.html