In addition to cooperation in agriculture, many Japanese enterprises have been keen on medical cooperation with Vietnam's Mekong River provinces. This has the potential to significantly improve the quality of healthcare in the region. 
Dao Anh Dung, Vice Chairman of Can Tho City's People's Committee, said that although Can Tho has two large general hospitals and several specialized hospitals, their equipment for diagnosis and treatment are poor, so Can Tho's medical sector desperately needs support from developed countries like Japan.
Dung underlined the need "of high-tech medical equipment. Can Tho has many hospitals but only two hospitals in the city have magnetic resonance imaging scanners. Japan's support will help meet the healthcare needs of Can Tho's citizens and others who live in the Mekong River Delta."
At a recent working session with the Steering Committee for the Southwestern Region, Narazaki Mikio, President of the Japan International Human Resources Development Association, expressed an interest in cooperating with Mekong River provinces in healthcare.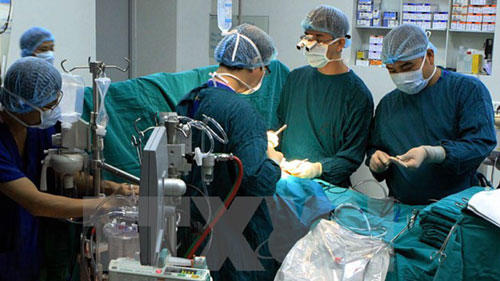 Mikio said his association mainly helps developing countries improve local living standards and healthcare. Equipment provided by the association has greatly improved the diagnosis and treatment of patients.
Mikio said that "I myself am a doctor. Like programs we have implemented in Laos and Cambodia, we've analyzed the water Vietnamese people drink and given them water filters to protect their health. The filtering machines are leased, not sold."
Nguyen Phong Quang, Deputy Head of the committee, said Mekong River provinces have partnered with Japan in agriculture and health care.
Quang, who is also president of the Southwestern region's Association for Poor Patients, said that "the Southwestern region's Association for Poor Patients can cooperate with the Japan International Human Resources Development Association in several fields to ensure that disadvantaged people, particularly children, receive needed medical diagnosis and treatment. We've made a list and scheduled surgeries for 1,000 patients with cardiovascular disease."
Mikio said his association is ready to help Vietnam's public health sector by supplying modern medical equipment and training people to use it, adding that "the more machines like MRI or CT scanners you have, the better patient treatment will be. In the future, we'll deliver many kinds of high-tech medical equipment to Vietnamese hospitals to make their diagnoses more accurate."