Indonesia fights forest fire
The Indonesian government has deployed over 22,000 soldiers, policemen and firefighters along with 24 aircrafts to extinguish forest fires in the Western parts of the country.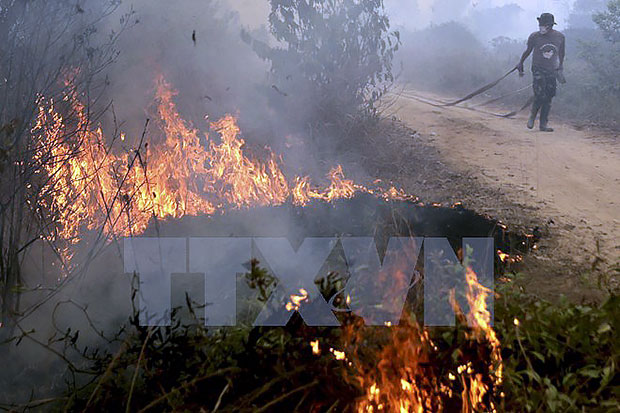 Forest fire in Ogan Ilir, southern Sumatra, Indonesia (Source: Reuters/VNA)
Spokesperson of the National Board for Disaster Management Sutopo Purwo Nugroho on September 15 said satellites of the US National Aeronautics and Space Administration (NASA) detected 260 hotspots in Indonesia, including 240 in Borneo Island.
He said numerous measures are being undertaken to put out the fires such as dropping water and creating artificial rain.
Such attempts are carried out as the country is experiencing the peak of the dry season in September, which poses a high risk of widespread fires, he added.
Indonesia suffered the biggest – ever forest fires in 2015 with 2.61 million hectares of land burned, resulting in huge impacts on public health and economic activities./.
VNA
Link:
http://en.vietnamplus.vn/indonesia-fights-forest-fire/99082.vnp