Indonesia earthquake: Initial casualty report 20 deaths
An earthquake measuring 6.5 on the Richter scale struck at dawn in Aceh province, north of Sumatra, leaving at least 20 people dead and dozens of others injured, said Indonesian authorities on December 7.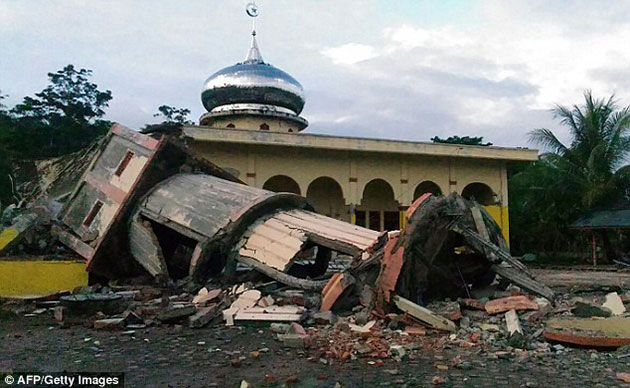 A house collapses in Aceh, Indonesia. (Source: AFP/VNA)
The earthquake occurred in the morning when people were preparing for morning prayers.
Apriadi Achmad, a local official, said the local government has mobilised heavy equipment and vehicles to assist search and rescue efforts for more than 50 people.
Residents in the coastal town Sigli were evacuated due to tsunami concerns.
An official from the Climatological and Geophysical Agency in Aceh said at least five aftershocks happened a few hours after the earthquake.
Indonesia often experiences earthquakes and volcanoes because it lies in the Pacific Ring of Fire.
In 2004, Aceh suffered severe consequences caused by the 9.2-Richter earthquake that triggered a tsunami in the Indian Ocean./.
VNA
Link:
http://en.vietnamplus.vn/indonesia-earthquake-initial-casualty-report-20-deaths/103865.vnp