The Ministry of Health (MoH) has requested international borders to immediately carry out health screening declaration for passengers coming from the Republic of Korea (RoK) to Vietnam.
In the face of complicated developments of Middle East respiratory syndrome corona virus (MERS-CoV) – a dangerous virus like SARS caused in the RoK, the MoH on June 2 hosted an urgent meeting to devise solutions for preventing the epidemic from infiltrating into Vietnam.
According to the MoH's Preventive Health Department , in May alone, the RoK recorded 18 cases of MERS- CoV infections caused by coronavirus, including 2 deaths.
The first Korean patient showed novel symptoms after 9 days since returning to the RoK from the Middle East (the epidemic affected area). The patient was diagnosed as MERS-CoV infection after being examined by four Korean medical facilities. Within only 10 days, the first patient transmitted the disease to 18 other Koreans.
Meanwhile, the Vietnam Immigration Department reported that approximately 1,000 Korean people enter Vietnam every day by air and by land, thus posing high risks of the epidemic in Vietnam.
As many as 76,000 Vietnamese people are currently studying or working in the RoK and about 20,000 in the Middle East.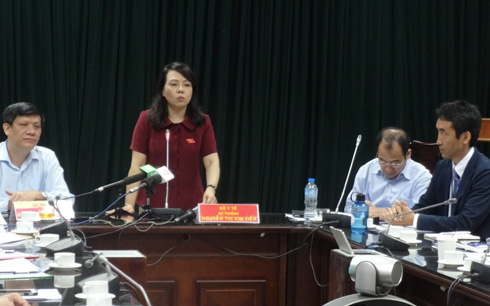 At the meeting, Deputy Health Minister Nguyen Thanh Long underscored the necessity to step up communications on the epidemic and asked international borders to closely monitor travellers coming from the affected areas like the RoK and the Middle East, and medical facilities to keep a close watch on the cases for the early detection, diagnosis and timely treatment.
Earlier in July 2014 Noi Bai International Airport in Hanoi and Tan Son Nhat International Airport in HCM City applied health declaration for passengers from the Middle East where MERS-CoV was first detected.
Statistically since early this year, the total number of people entering Vietnam from nine Middle East countries was 23,000 (nearly 5,000 entered Vietnam from epidemic areas, excluding 1,000 coming from the RoK).
In her speech, Health Minister Nguyen Thi Kim Tien urged MoH agencies and other ministries, sectors and localities to actively implement MERS- CoV prevention measures and advise people not to travel to epidemic areas during this time.
For those who come from the RoK and epidemic areas to Vietnam should strictly abide by health screening declaration, personal hygiene measures, including regularly washing hands with soap and water, Tien noted.
VOV