A new outbreak of avian influenza A virus subtype H5N1 has been detected in the central province of Ha Tinh, according to the Department of Animal Health under the Ministry of Agriculture and Rural Development.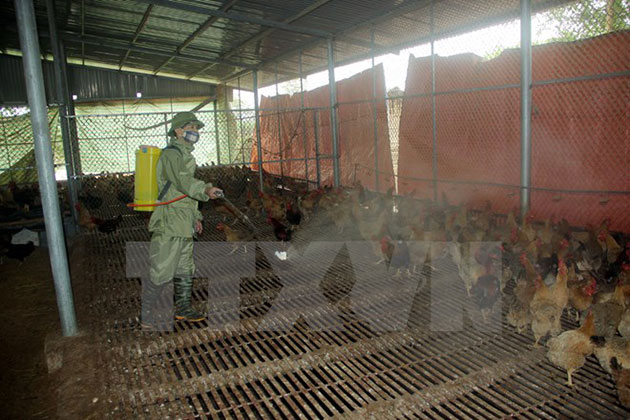 Illustrative image (Source: VNA)
The Ha Tinh Department for Breeding and Animal Health reported that the virus had been found in signs of the flu in a flock of 1,698 fowls at a family farm in Dai Nai ward in Ha Tinh city since March 21. Up to 50 ducks died and the test showed they infected with A/H5N1.
Local authorities culled the dead fowls and sprayed chemicals on the farm and surrounding areas to prevent the virus from spreading.
In the meantime, A/H5N1 is hitting Mekong Delta Can Tho city and southern Hau Giang province while an A/H5N6 outbreak is affecting central Quang Tri province.
According to the Department of Animal Health, Vietnam faces high risks of infection of new avian flu virus strains, such as A/H7N9, A/H5N2 and A/H5N8 via illegal transport, trading and consumption of poultry, particularly in northern border provinces.
The agency urged all localities to proactively prevent and control avian influenza and strengthen their supervision and punishment on poultry smuggling while monitoring their areas to promptly detect and handle any emerging outbreaks./.
VNA
Link:
http://en.vietnamplus.vn/ha-tinh-announces-new-avian-flu-ah5n1-outbreak/109324.vnp