Electric short-circuit – Main cause of $13mil-loss Taiwanese factory fire in CanTho
Electric short-circuit was cited as the cause of the huge fire that engulfed a Taiwanese garment factory in southern Can Tho City's Tra Noc Industrial Zone.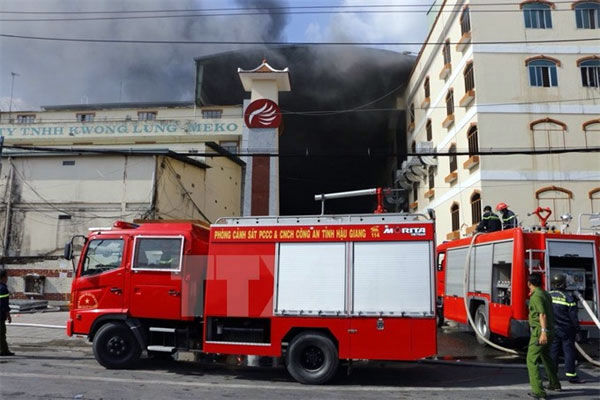 A fire truck was mobilised to stamp out the fire that broke out in a five-storey building in southern Can Tho City's Tra Noc Industrial Zone. (Source: VietNamNet Bridge)
At a conference in Can Tho City yesterday morning, Colonel Tran Ngoc Hanh, director of the city's Police Department, said authorised agencies had inspected the scene of the fire and found that the electric system was the first object that caught fire.
The fire then quickly spread to other goods.
Until yesterday morning, authorised agencies and fire fighters continued to take goods out of the factory.
He added that information that the firefighters faced a shortage of water while extinguishing the fire was inaccurate.
In reply to reports that the firefighting effort was not effective, Hanh said due to the factory's design like a hive, the fire first engulfed the fabric lying in the middle of the factory and then spread all over.
Firefighters sprayed water around the factory, but the fire could not be controlled effectively.
In addition, fabric stores were located in the working office on the fourth and fifth floors; therefore, firefighters were unable to stamp out the fire.
Hanh said the factory contained fabric and feathers, so the fire raged again, although it earlier appeared to have been extinguished, adding that the city had only two ladder fire trucks, which were not enough in case of such huge fires.
When the fire broke out again, authorised agencies mobilised seven fire trucks with ladders from neighbouring provinces and more 700 soldiers and firefighters to stamp out the fire completely.
Last Thursday, a fire broke out on the top floor of the five-storey building where Kwong Lung-Meko stores its fabric in the Tra Noc Industrial Zone in southern Can Tho City.
The fire quickly spread throughout the floor which has a 1,800sqm fabric store.
It was put out at 3pm but suddenly broke out again at 5pm and was not totally extinguished until 10pm Sunday.
Hundreds of people and some 1,200 workers have been affected by the fire.
Kwong Lung-Meko specialises in feather processing and garment production.
Its factory covers some 17,000sq.m. and has more than 1,300 workers in the Tra Noc Industrial Zone in Can Tho City.
Firemen battle blaze, citizens feed them
Some 200 firefighters from the Mekong Delta city of Can Tho and seven neighbouring provinces and cities worked themselves into exhaustion to extinguish a fire that broke out last week at a Taiwanese garment factory.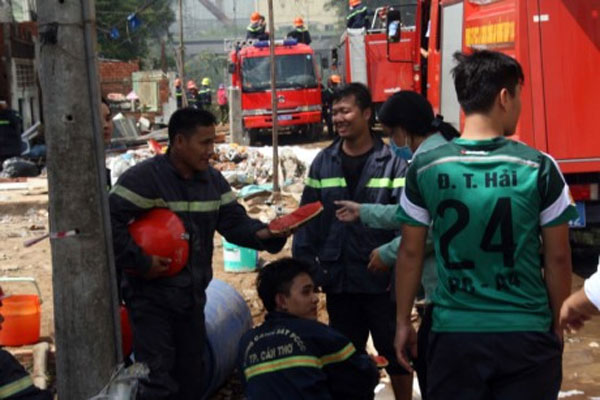 Young volunteer give fruit to fire fighters during a short break.
(Source: VietNamNet Bridge)
Tran Duc Dinh, deputy director of the city's Fire Prevention and Fighting Police Department, told Vietnamnet that this is the biggest fire that ever occurred in the city.
The fire started last Thursday morning on the top floor of a five-storey building inside the Tra Noc Industrial Park where the garment firm Kwong Lung-Meko stores fabric.
By Thursday evening it was under control, but flared up twice, last Friday and Sunday, and was completely extinguished by yesterday morning.
The fire was so big that the firefighters did not have time to eat and rest, Việt Nam Television (VTV) reported. They couldn't have done their job without the food and water brought by local citizens, the firefighters were reported as saying.
Tran Van Hai, a resident living near the fire scene, was reported by VTV to have given dumplings, bread and iced tea to every single firefighter several times.
"I might spend the day selling food and drink and make some VND100-200,000 (US$4-9)," he said. "But I chose to do [this] to help fire fighters maintain their health."
Several firefighters vomited and fainted due to asphyxiation and smoke poisoning despite having worn masks, Vietnamnet reported. Some sustained burns and were treated at the site.
Many firefighters were reported to be resting and eating by the walls of the buildings near the fire scene. Four fire trucks and hundreds of firefighters were reported by the Tuoi Tre (Youth) newspaper to be spraying water on the 5th floor of the Kwong Lung Meko Company, when the fire re-ignited on Sunday evening.
Hot weather was identified as the factor fanning the smoldering fire, the newspaper reported.
Resident Pham Thi Dung said that she and other local residents halted their workdays to help prepare food and water for fire fighters.
"Seeing firefighters rush into the fire made me worry so much. Their job is too dangerous," she said.
People living in Can Tho City's Residential Block 586 cooked meals and packed them into plastic boxes to deliver to firefighters after seeing them eat dry bread.
"We made some soup for them. They worked so hard," said a woman named Yen, who is a member of voluntary group from Residential Block 586.
Meanwhile, a member of the Hau Giang Pharmaceutical Joint Stock Company carried dozens of big water bottles and vitamin tablets and 300 medical boxes to aid exhausted firefighters.
Young volunteers delivered fruit and water. As soon as the fire was extinguished, they went back to clean up and help people carry things home.
Prime Minister Nguyen Xuan Phuc yesterday ordered the Ministry of Public Security to investigate the cause of the fire and examine areas with high risk of fire to avoid similar accidents.
No casualties were reported, but Le Thanh Dung, deputy director of the Kwong Lung Meko Company, told the newspaper property damage is estimated at some US$6 million, not including damage to equipment and facilities.
Kwong Lung–Meko specialises in feather processing and garment production. Its factory covers about 17,000sq.m and has more than 1,300 workers in the Tra Noc Industrial Zone, about 15km from downtown Can Tho./.
VNS
Link:
http://english.vietnamnet.vn/fms/society/175500/electric-short-circuit-main-cause-of–6mil-loss-taiwanese-factory-fire-in-cantho.html