A large-scale Mekong Connect-CEO Forum will be held for the first time in the Mekong Delta city of Can Tho on September 4, announced the organising board during a press conference on August 18.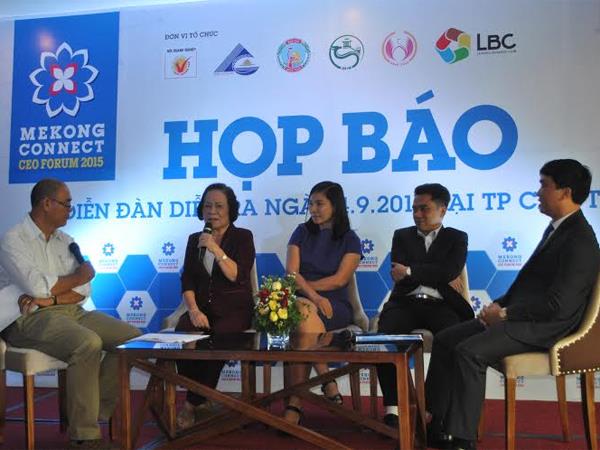 The forum, jointly organised by the Association of High-Quality Vietnamese Goods Producers and the four Mekong Delta localities of An Giang, Ben Tre, Can Tho and Dong Thap, is expect to attract 500 entrepreneurs and about 100 leaders of ministries and localities as well as economic experts.
Twenty economists and CEOs from successful businesses nationwide will also share their experiences at the forum.
According to Vu Kim Hanh, Chairwoman of the Association of High-Quality Vietnamese Goods Producers, the event aims to link regional enterprises for common growth.
Despite their scale, the enterprises share a common objective of improving competitiveness and engaging in the regional and global goods value chain as Vietnam moves to join free trade agreements.
Meanwhile, Vice Chairman of the Can Tho People's Committee Truong Quang Hoai Nam reported that Can Tho is now hosting over 7,000 enterprises with total retail revenue of goods and services reaching over 4 billion USD per year.
He said Can Tho will do everything in its power to contribute to the success of the forum, which is expected to create good conditions for local enterprises to boost growth and enhance competitiveness.
During the forum, participants will also discuss different issues, including start-ups, human resources and selling farm produce.
A Club of Mekong Delta Leading Businesses is also scheduled to debut during a gala dinner within the forum's framework, said Nam.
Covering 13 localities, the 17-million-strong Mekong Delta region contributes 17.8 percent to Vietnam's GDP and accounts for 80 percent of the country's rice exports and nearly 60 percent of its aquatic products exports.
VNA/Vietnamplus