Community-based tourism service providers in the Mekong Delta city of Can Tho need to be evaluated and classified by "quality label", heard a workshop in the city on March 21.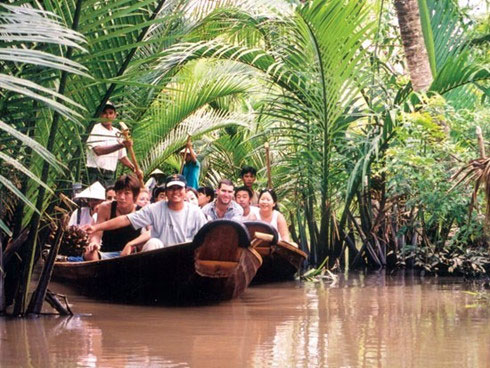 Tourism in My Khanh, Can Tho. (Source: VOV)
The workshop entitled "The participatory of community on Green – Clean – Beautiful Initiative and Ecological Culture which will be linked to the urban prosperity approach towards sustainable development for Can Tho City" was held by the Can Tho People's Committee and the United Nation Human Settlements Programme (UN Habitat).
Speaking at the event, Vice Chairwoman of the municipal People's Committee Vo Thi Hong Anh, said Can Tho has put many efforts to develop green tourism over the past five years which resulted in an increased number of tourist arrivals and more foreign direct investment (FDI) concentrated in the field.
However, the local tourism industry has not fully tapped its potential highlighted by the native folk culture and system of canals and rivers alongside various tropical fruits, she noted, adding that the city needs a more comprehensive plan for tourism growth.
According to the city's plan on tourism development towards 2030, Can Tho will develop tours in which visitors can experience local river life and enjoy wandering around gardens of tropical fruits or they can learn about local history from cultural and historical relics, the vice chairwoman said.
Cultural and eco-tours in Can Tho, and the Mekong Delta in general, are not every different from each other and they vary considerably in price and service quality, Prof. Lee Seung-koo from Kangwon National University stated.
He emphasised on the need for the city to evaluate their service quality and classify them by "quality label" to prevent them from providing poor services while overcharging tourists.
The assessment should be based on a transparent set of standards and authorities can study successful models of community-based tourism in Vietnam and other countries for reference to develop such standards.
Business household should also be offered soft loans to improve their tours and services, he added.
According to Prof. Kim Kwi-gon, President of the RoK-based International Urban Training Centre, authority and travel agencies should act as a bridge between tourists and the locals that provide community-based tourism services and relevant state bodies should help them get education in management, communication and foreign languages to serve tourists better and make their livelihood more sustainably./.
VNA
Link:
http://english.vov.vn/travel/can-tho-communitybased-tourism-services-need-quality-label-346043.vov