Boxers win six medals at regional boxing championship
Young boxers from Vietnam won a gold, three silver and two bronze medals at the ASEAN Youth Boxing Championships which concluded in Saraburi, Thailand, on March 6.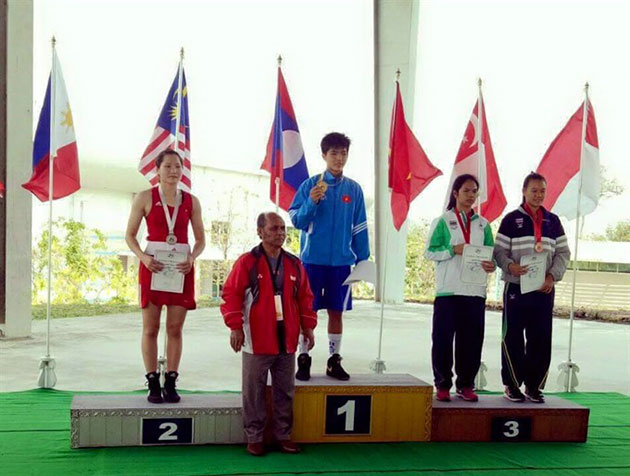 Vietnamese Do Hong Ngoc is on the top podium after her win in the ASEAN Youth Boxing Championships' women's 60kg class in Thailand (Photo: VNA)
The only gold went to Do Hong Ngoc in the women's 60kg category. The 18-year-old Ngoc defeated her teammate Nguyen Thi Loan in the final match after earlier becoming the first ever boxer in the regional tournament to beat a rival of the host nation.
Ngoc, who is Vietnam's national bronze medallist, defeated Peedakamon Tintabthai in the semi-finals. Later, in the same round, Loan proved her credentials to beat Thai Chalisa Mora in the second bout of the day.
In the women's 75kg class, Hoang Ngoc Loan lost to Thanchanok Saksri of the host.
Pham Thi Mai defeated Thailand's strong favourite Porntip Buapa in the semi-final of the women's 57kg pool but failed to repeat the feat in the final, losing to Bunyanut Machai, another Thai.
Vietnam's national bronze medal winner Vo Xuan Hai and Tran Thi Giang finished third in their men's 52kg and women's 75kg categories, respectively.
Women boxers can take part in the ASEAN Youth Boxing Championships in four weight classes: 51kg, 57kg, 60kg and 75kg. The men have six weight classes: 49kg, 52kg, 56kg, 60kg, 64kg and 69kg.
The Vietnamese delegation ranked second in the medal tally. Thailand proved their power in the sport, dominating with nine gold medals./.
VNA
Link:
http://en.vietnamplus.vn/boxers-win-six-medals-at-regional-boxing-championship/108290.vnp