Landscapes, cuisines and culture of Vietnam and several other ASEAN member countries like Thailand, Indonesia, Malaysia and the Philippines were introduced at a programme in Buenos Aires, Argentina on November 27.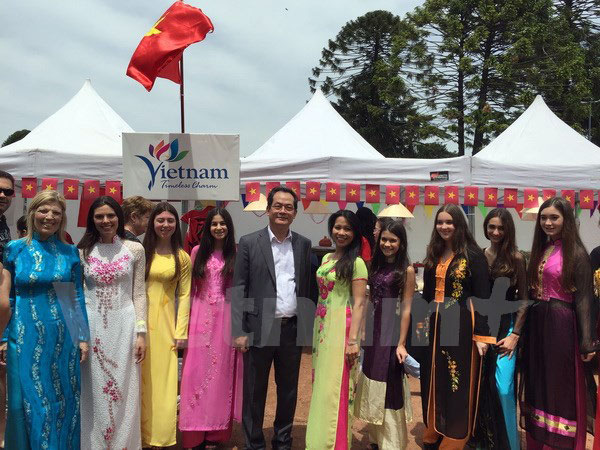 Ambassador Nguyen Dinh Thao (M) at the programme (Source: VNA)
The programme was hosted by the Vietnamese Embassy in Argentina in coordination with the embassies of the above-said countries.
It aims to enhance understanding about ASEAN in Argentina while stepping up cooperation between the South American nation and each ASEAN member country.
Visitors to the festival were attracted by stalls displaying Vietnam's Ao Dai (traditional long dress), handicrafts and photos capturing cultural identities of Vietnamese ethnic groups.
Besides, Vietnam's music, traditional martial art and Ao Dai performances, and Vietnamese dishes like Nem (spring rolls) and Nom (salad) also drew the enthusiastic response of the visitors.
Clips introducing culture, trade and tourism in the five ASEAN countries were screened on this occasion.
Addressing the event, Vietnamese Ambassador Nguyen Dinh Thao made a brief on the formation and development of ASEAN over the past five decades, especially its achievements, role and position in the region and the world at large, as well as its contributions to peace, stability, cooperation and development in Southeast Asia and Asia-Pacific.
He spoke highly of Argentina's support and contributions to the group's development, expressing his hope to receive more assistance from the country in the time ahead.
As the rotating President of ASEAN in Argentina, the Vietnamese Embassy committed to continuing its coordination with embassies of other ASEAN nations in Argentina and competent agencies in the host country to organise more activities promoting ASEAN's culture and tightening solidarity and friendship within the group and between the bloc and Argentina./.
VNA
Link:
http://en.vietnamplus.vn/asean-culture-highlighted-in-argentina/103348.vnp