Cần Thơ City Visited Martyrs' Cemetery
In the morning of July 27th, at the City's War Martyrs' Cemetery, the Steering Board for the Southwestern region, the Military Zone 9, the Party Committee, People's Council, People's Committee, Việt Nam Fatherland Front Committee, sectors, armed force of the city came to lay floral tribute and light incense on the bravery of war martyrs who have sacrificed for the national independence, freedom on the occasion of the 69th anniversary of war invalids, martyrs.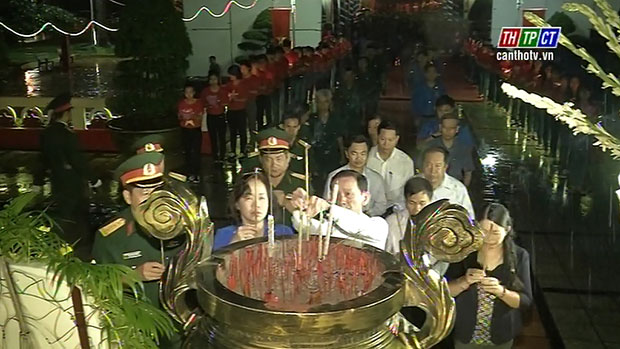 Leaders of Cần Thơ City visited Martyrs' Cemetery.
In the solemn atmosphere, delegates set aside one minute of silence to commemorate heroes, war martyrs-eminent children of the homeland and vowed to continuingly inherit and bring into play revolutionary traditions, unite to build more and more civilized and richer city, deserving the driving force center of Mekong delta region.
This is a practical activity which shows the deep affection of the party committee, authority, armed force of the city and people while contributing to fostering revolutionary ideology, educating patriotism, national pride and responsibility for protecting the holy sovereignty of the fatherland in present situation./.
Translated by Xuân Trang